Unleashing the Power of Collective Heart Intention: Manifesting a New Era of Care, Compassion and a Cooperative World.
You are invited to attend the third annual HeartMath Institute Global Coherence virtual event, Unleashing the Power of Collective Heart Intention: Manifesting a New Era of Care, Compassion and a Cooperative World.
This interactive, uplifting event will take place online Friday, Saturday and Sunday, March 31, April 1 and 2, 2023. Each day is 4½ hours – from 9:00 a.m. to 1:30 p.m., Pacific Daylight Time and includes daily break out sessions for you to participate in.
During this special virtual event, you will be able to share in daily heart-focused meditations and experience proven practices for expanding our heart's care and compassion. You will experience the power and warmth that happens when groups of people come together in the heart with a collective intention.
Experience...
Inspiring presentations from each of our key presenters, including three HeartMath Master Trainers, Rollin McCraty, Deborah Rozman and Howard Martin, HMI Researcher Nachum Plonka, and four special guest speakers: Lynne Twist, Ervin László, Patricia Van Pelt-Scott, and Dillon Brooks.
How getting in sync with other people's hearts strengthens our collective contribution to lifting our personal and global energy field.
Spirit-lifting breakout sessions with other "like-hearted" participants.
What it feels like to reboot our spirits when we fade into a lower vibration and release the stress that comes with it.
Resetting your vibration and anchoring inspiration and insights so they are more available to you after the event.
The feeling created when hundreds of people are simultaneously radiating care and compassion.
Learn...
The importance of collective compassion to facilitate humanity in getting along with each other – a most vital step forward.
The difference between taking a "heart stand" that unifies people rather than a "mind-stance" that separates.
Why meaningfulness (genuine heart intention) is the action word in all practices to experience the deeper benefits of who we truly are
Ways to slow down the vibratory rate of the mind and emotions to access sensitivity to your heart's intuitive choices and unclouded discernment.
Why listening to your heart's intuitive guidance is a most important step for manifesting your purpose.
Scientifically proven techniques to help you find calm under any circumstances, increase your immunity, and gain a renewed sense of vitality and focus.
About the New Global Consciousness Project 2.0 and ways to be involved as a Citizen Scientist.
How planetary, solar, and cosmic energies affect our emotions, mental functions, health, and behaviors.
HeartMath Presenters and Guest Speakers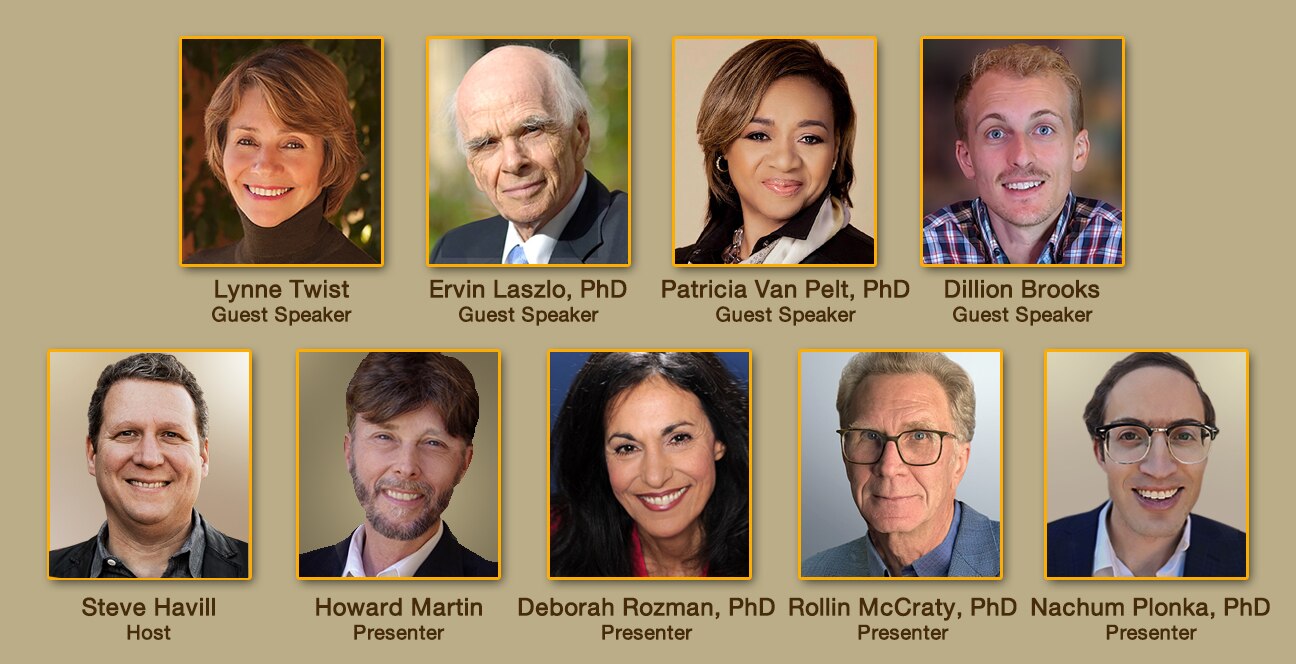 The event will be hosted by Steve Havill, HeartMath Community Activation Facilitator, and led by three HeartMath Master Trainers and Executives, Rollin McCraty, Ph.D., Deborah Rozman, Ph.D., Howard Martin and HMI Researcher Nachum Plonka, Ph.D. We are delighted to have four guest speakers, Lynne Twist, Ervin Laszlo, Ph.D., Patricia Van Pelt, Ph.D., and Dillon Brooks.
Our Guest Speakers…
Lynne Twist
will share how having a purpose larger than yourself leads to deep fulfillment and why it's so important that we listen deeply to our hearts to find and unfold our larger purpose.
Ervin László, Ph.D.,
as an advocate of the theory of quantum consciousness, will talk about a new paradigm for research of the cosmos, life, consciousness and society that's emerging.
Patricia Van Pelt-Scott, Ph.D.,
will share about her goal in life is to advance civilization through helping to solve world problems, especially by empowering underserved communities.
Dillon Brooks
will talk about his Tik Tok community for Gen Z's and Millennials called "Citizen Scientists." He'll share what this means and why it's important for creating the positive change we desire personally and collectively.
Two Free Gifts
Prior to the event, each participant will receive free access to the HeartMath Experience video program. You will also receive the our new edition of our e-book Heart Intelligence: Connecting with the Heart's Intuitive Guidance for Effective Choices and Solutions - By Doc Childre, Howard Martin, Deborah Rozman, Ph.D. and Rollin McCraty, Ph.D.
Daily Time Schedule for 3 days.
9:00 a.m. – 10:00 a.m. – Break for 10 minutes.
10:10 a.m. – 11:10 a.m. – Break for 10 minutes.
11:20 a.m. – 12:20 p.m. – Break for 10 minutes.
12:30 – 1: 30 p.m.
About the Daily Break-out Sessions:
12 people will be randomly selected and placed into a group.
A group question will be presented.
Each person can talk about how they relate to this.
The group will pick a spokesperson to express the group's synchronized viewpoint.
All proceeds for this virtual event will go towards funding the Global Coherence Initiative and research.
Join us for this transformational event as we unleash the power of collective heart intention, experience heart connections and enjoy our interactions.
If you have any questions, call Del Walker at (831) 338 8502 or toll free at (800) 711 6221, or e mail him at delwalker@heartmath.org.
For international calls: +1 (831) 338-8500.
About the Reviews: The reviews at the top and bottom of this page are from participants in last two Global Coherence events.