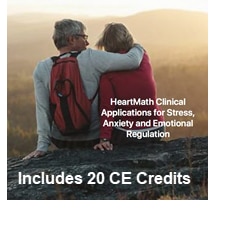 HeartMath Clinical Certification for Stress, Anxiety and Self-Regulation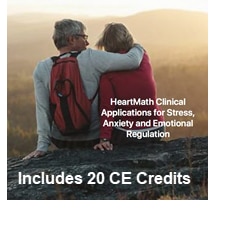 Item # Z5255
Sale

Price:
$195.00
Regular Price: $395.00
Teaching Your Clients Effective Self-Regulation Skills is the Key
Stress and anxiety have a major impact on the health and well-being of your patients. What if you could teach them simple techniques to help them synchronize the activity between their heart, nervous system and brain, allowing them to effectively manage stress and regulate their emotions?
Receive 20 CE Credits
This course is fully accredited and upon course completion of the final exam you will receive 20 Continuing Education (CE) Credits. Approved by APA. For other organizations please see bottom of page.
Included in This Course
Six one-hour recorded classes
Comprehensive course manual that includes protocols, scripts, case study examples, clinical forms, and patient handouts
Access to two in-depth mini-courses, Heart Rate Variability (HRV) and Coherence
Certification as a HeartMath Certified Practitioner upon successful completion of an exam
20 CE Credits
Listing in the HeartMath Provider Directory upon certification for those who qualify
The course is divided into six one-hour online units, including:
+ More Details
- Less Details
Intro, Overview and Scientific Foundation

Stress and intelligent energy management
Autonomic nervous system and emotional regulation
Resilience building

Coherence Model and Heart-Brain Communication

Coherence and its impact on the human system
Heart's own complex nervous system: the "heart brain"
Technique: Quick Coherence®

Relational Energetics and Self-Care

Our emotions and attitudes affect the heart's magnetic field
Provider/practitioner self-care impact quality of care
Technique: Heart Lock-In®

Heart Rate Variability

Deepening the understanding of heart-rate variability
Clinical applications
Technology options for heart-rate variability and coherence measurements
Technique: Attitude Breathing™

Brief Intervention Protocol

Clinical case studies
Sample brief protocol
Technique: Freeze Frame®

Multi-Session Protocol and Special Populations

Complexity and the mind-body connection
Clinical applications, complex patients (ie: PTSD, depression, anxiety, children)
Multi-session protocol
People who purchased this course frequently purchased: