Inner Balance with Family Wellness Bundle
The Inner Balance Parenting and Family Wellness Bundle includes the Inner Balance App and iOS Lightning Sensor (for iPhone 5 and newer, iPad 4 and newer, iPad Air and Mini, and 5th Gen iPod). The accompanying digital content has been specifically selected for effectiveness and popularity.
The resilience, energy and emotional well-being of your family are important to you and they're important to HeartMath. We've long been committed to providing a wide range of options and benefits for the personal health, well-being and performance of young children, teens and adults. Now many of HeartMath's popular books, audio and music files, webinar presentations and other products available separately are being included in the new Family Wellness Bundle. Whether it's stress, fatigue, children's behavior, sleeping problems, relationship issues, academic performance or other concerns, we're sure this special collection includes something to benefit every member of your family. Retail value: $300.00+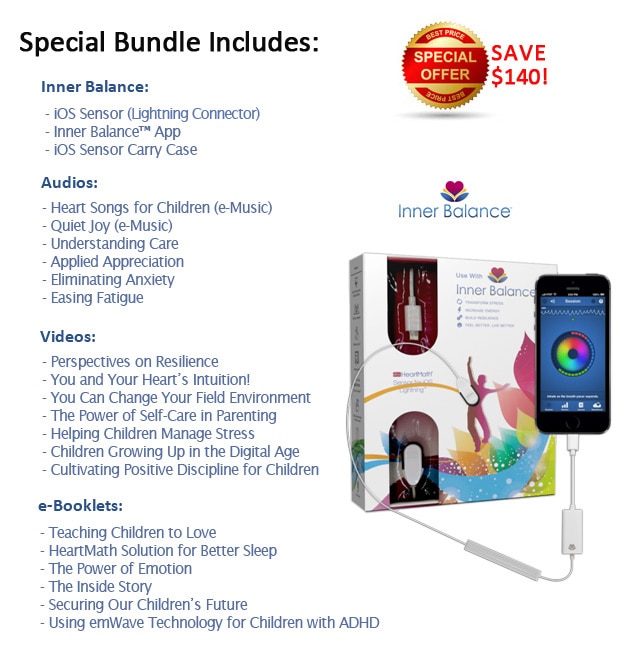 Typical benefits people notice after two weeks of genuine practice:
Less friction in relationships
Better communication
Increased composure and calm
More ease and inner peace
More alertness
Better focus and decision making
More positive attitudes
Deeper connection with one's authentic self

NEW! A free online platform giving you the ability to track your sessions universally, earn rewards for your efforts, share with others, and see how other members of the community are doing.
It's Fun and Easy to Use
The new Inner Balance App and Sensor is an innovative and fun way to improve performance and well-being through real time, precision feedback and training. Inner Balance shows your heart-rhythm pattern (HRV) as a breathing pacer with built-in coach guides you into a more aligned inner state. Once you have downloaded the Inner Balance App, just plug in the iOS Sensor and you are ready to begin. Inner Balance incorporates an advanced heart-rate monitor that measures even subtle changes in your heart rhythms
Heart Rhythms and Coherence
When you experience stressful emotions such as frustration, anxiety, irritation and anger, your heart-rhythm pattern becomes irregular and incoherent, negatively affecting your health, brain function, performance and sense of well-being. When you experience renewing emotions such as appreciation, dignity, joy and love, your heart-rhythm pattern is more ordered and coherent.

These graphs contrast the quality of a heart-rhythm pattern when stressed to one when feeling a positive emotion.
Ordered and balanced heart rhythms are an indicator of your "coherence level." High coherence is a state associated with positive emotional attitudes, which send signals to the brain that reduce reactions to stress and improve cognitive function, hormonal balance, immune response, coordination and reaction times, and your overall sense of well-being.
Inner Balance iOS Lightning Sensor Specs
Size: 8 x 3 x 6 (mm)
Weight: 0.2 ounce
Lightning connector
Package Specifications
Box Size: 5.5" x 1.5" x 7"
Weight: 5 ounces
System Requirements
4th and 5th Generation iPad, iPad Air and iPad Mini
iPhone 6 and newer
iPod Touch (5th Generation)
Note:You will receive download instructions for the Inner Balance App and Quiet Joy music immediately after placing your order.
iPad, iPod, iPhone and iOS, are trademarks of Apple Inc., registered in the U.S. and other countries. Inner Balance is a trademark of Quantum Intech Inc.