For Bluetooth Version, click here.
Build your personal coherence with the Inner Balance App or increase social and global coherence with the Global Coherence App.
Global Coherence App for Social and Global Coherence
Use this free app along with Coherence Sensors to facilitate increased family, group or team coherence and heart connections. Family or team members can be located anywhere in the world. You can also join a global network of people who are collectively radiating heart-focused love and intention to the planet. The goal: To facilitate a shift in global consciousness from instability and discord to compassionate care, cooperation and increasing peace.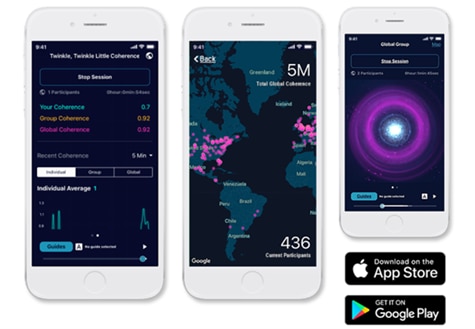 The Inner Balance App for Building and Sustaining Your Personal Coherence
Using the Coherence Sensor, you will quickly learn to ease stress overload as you begin shifting and replacing emotional stress with emotional balance and coherence. Regular use has a "carryover effect" that builds and sustains your mental, emotional and physical well-being.
Both apps are available for free from the App Store or Google Play.
About the Inner Balance App
The Inner Balance App and Sensor is an innovative and fun way to improve performance and well-being through real time, precision feedback and training. Inner Balance shows your heart-rhythm pattern (HRV), as a breathing pacer with built-in coach guides you into a more aligned inner state. The Inner Balance App works exclusively with the, one-of-a-kind, Inner Balance Coherence Sensor that attaches to your iPhone or iPad, and your earlobe. The wired USB-C Sensor for Android, feeds your heart rhythms into the app.
The Coherence Breakthrough
Inner Balance is based on "the coherence breakthrough". Coherence is a state of synchronization between your heart, brain and autonomic nervous system that has been proven to have numerous mental, emotional and physical benefits. You can think of coherence as a simultaneous state of relaxation, readiness and revitalization. Some refer to this as a balanced state of composure or poise. Coherence improves performance, health and emotional well-being.
Typical Benefits People Notice With 2 Weeks of Genuine Practice:
More ease and inner peace
Better sleep
Less friction in relationships
Less worry
More alertness
Better focus and decision making
More positive attitudes
Increased composure and calm
How it works
+ More Details
- Less Details
Once you have downloaded the Inner Balance or Global Coherence App, just plug in the Coherence Sensor and you are ready to begin. The sensor incorporates an advanced heart-rate monitor, that measures even subtle changes in your heart rhythms. This type of measurement is known as heart-rate variability analysis, or HRV. HRV analysis is a noninvasive measurement that reflects heart-brain interaction and autonomic nervous system dynamics, which are particularly sensitive to changes in your emotional state.
Heart Rhythms and Coherence
When you experience stressful emotions such as frustration, anxiety, irritation and anger, your heart-rhythm pattern becomes irregular and incoherent, negatively affecting your health, brain function, performance and sense of well-being. When you experience positive emotions such as appreciation, dignity, joy and love, your heart-rhythm pattern is more ordered and coherent.

These graphs contrast the quality of a heart-rhythm pattern when stressed to one when feeling a positive emotion.
Ordered and balanced heart rhythms are an indicator of your "coherence level." High coherence is a state associated with positive emotional attitudes, which send signals to the brain that reduce reactions to stress and improve cognitive function, hormonal balance, immune response, coordination and reaction times, and your overall sense of well-being.
Inner Balance App and Sensor Features:
Plug-and-play USB-C (For Android) Sensor
Multiple sessions screens to watch your coherence in real-time or review your progress.
Multiple breathing pacers to help you create more inner balance
Guided techniques and exercises
Real-time coaching
Add your own music and positive image
Automatic notification when you wish run a session
Compatibility
This sensor is designed for use with Android v7 and newer.
Package Contents:
USB-C Sensor Specs:
Cable Length: 48" (121.92 cm)
Weight: 0.2 ounce
USB-C connector
Package Specifications
Box Size: 5.5" x 1.5" x 7" (139.7 x 177.8 x 38 mm)
Weight: 5.1 ounces (144.6 grams)