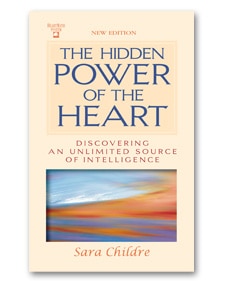 Hidden Power of the Heart - Pdf
Hidden Power of the Heart - Pdf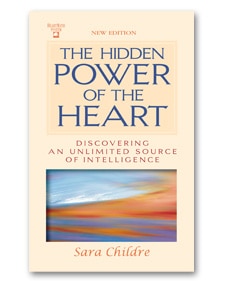 Item # EHPH - Pdf
Sale

Price:
$12.95
Regular Price: $12.95
Hidden Power of the Heart: Discovering an Unlimited Source of Intelligence e-Book
By Sara Paddison

Find Your Hidden Power
One of HeartMath's classics, speaks to you in a warm and friendly style, like a good friend.
Hidden Power of the Heart
is a powerful story giving new insights into the power of the heart to increase intelligence and heighten emotional awareness. It combines wisdom with practical tools and techniques to develop your heart intelligence. Each of us has a magnificent power within that can fulfill us with hope and empower us to live our lives to our greatest potential. Paddison gives you the how-to for unlocking possibilities of love, compassion and peace. New mind-expanding topics include holographic awareness, the dimensional shift and DNA blueprints. You will discover a hidden power available to everyone – a power that can change your own life and create a new future for humanity. For many, this is a favorite personal reference guide.
Hidden Power of the Heart e-Book Includes:
Table of Contents:
Chapter 1 – The Hidden Power of the Heart
Chapter 2 – The Heart
Chapter 3 – The Head
Chapter 4 – Stress: The Social Disease
Chapter 5 – Higher and Lower Heart Frequencies
Chapter 6 – The Dimensional Shift
Chapter 7 – Heart Power Tools
Chapter 8 – Tools for Rapid Self-Adjustment
Chapter 9 – Speak Your Truth: Honest Communication
Chapter 10 – Releasing Judgments
Chapter 11 – Inner Security: Your Key to Self-Esteem
Chapter 12 – Uncovering Compassion
Chapter 13 – The Power of surrender
Chapter 14 – God's Creation
Chapter 15 – Holographic Awareness
Chapter 16 – DNA Blueprints
Chapter 17 – Return to Family Values
Chapter 18 – Deep Heart Listening
Chapter 19 – Forgiveness
Chapter 20 – The Magnetics of appreciation
Chapter 21 – Care or Overcare?
Chapter 22 – Death: A New Frontier
Chapter 23 – Balance: Faster than Light
Chapter 24 – The Mind/Brain
Chapter 25 – Fulfillment
Available in e-Book format only.
Customers who downloaded the Hidden Power of the Heart e-Book frequently purchase: