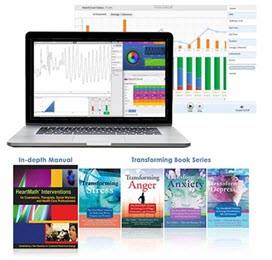 HeartMath Interventions Certification - With emWave Pro Plus
HeartMath Interventions Online Certification for Health Professionals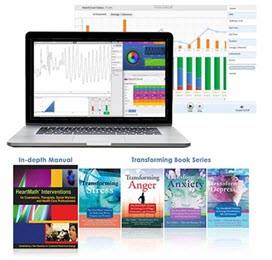 Item # BDHMIP
Sale

Price:
$395.00
Regular Price: $795.00
Helping Clients Establish a New Baseline for Sustained Behavioral Change
This self-paced training program is designed for doctors, nurses, psychologists, therapists, counselors, social workers, and other health professionals who want to add HeartMath techniques and emWave HRV Coherence technology to their practice.
You can help your patients and clients learn self-regulation and emotional management skills to help with stress, anxiety, and many other conditions.
The training is taught in English and is available worldwide. It combines recorded webinars, video presentations, home study, and certification as a HeartMath Certified Practitioner.
Participants learn how to teach HeartMath's core techniques and how to use the emWave® technology in your practice with individuals and groups as well as assessment protocols for Heart Rate Variability (HRV) and psychophysiological status.
The HeartMath Interventions Program (HMIP) Includes:
Instruction (self-paced) – recorded webinars and recorded video presentations
Six 90 minute recorded webinars with Question & Answer session
Access to two mini-courses on Coherence and Heart Rate Variability.
Comprehensive Reference Manual (electronic version)
The scientific underpinnings of the HeartMath System including the therapeutic implications of HRV measurement and assessment.
Specific protocols for integrating HeartMath interventions into your professional practice. Protocols include: 1) multi-visit interventions; 2) one or two visit interventions; 3) acute interventions; 4) group therapy interventions; and 5) interventions for children.
emWave Pro Plus
Turns your computer into an heart-rhythm coherence monitor which shows clients how quickly emotions impact their physiology.
Helps you teach clients a more efficient and automatic response to stressful emotions and facilitates their establishing coherence and a new physiological baseline.
Effective for observing the client's current status of ANS function and level of depletion.
Transforming Series of eBooks
Transforming Anger, Transforming Anxiety, Transforming Depression, Transforming Stress.
Resource Center
Ongoing Access to Class Webinar and Video recordings, Manual and Library of resources.
Certification
Take the post-course test and receive a grade of 75% or higher or complete a case study and become a HeartMath Certified Practitioner.
Note: emWave Pro Plus (Included in this course) is $499 if purchased separately.