NEW
The Stress and Well-Being Assessment Provider Program delivers everything needed to successfully incorporate a powerful assessment tool into your work with individuals and small groups. The Program is especially designed for mentors, coaches, counselors, facilitators, consultants, peer support persons, mental and physical health professionals, trainers, and more.
Providers Explain the Power of the Program - View Video Below
The Five Parts of the Provider Program
Stress and Well-Being Assessment — The fully normed and validated Stress and Well-Being Assessment was originally developed at the HeartMath Institute Research Center for use as the stress and well-being component of a health risk assessment for a large hospital system. The assessment has now been used by tens of thousands of English reading people around the world.
Self-paced Video Course— 6 modules, about 30 minutes each, provide in-depth instruction and best practices for administering, viewing, interpreting and sharing results with your client.
Ongoing LIVE Support and Best Practice Sessions — Join any of the monthly sessions for Q & A and best practices being used by successful providers.
Stress and Well-Being Assessment Provider Dashboard — Unlimited access to easily track, invite, view and compare your clients' results to normative data and their previous assessment results.
License for 60 free assessments — Includes 10 assessments to use with friends and family during your learning cycle and 50 upon successful completion of the course. Additional assessments are available for under $5 each.
Evaluate the Assessment for Free and See the Benefits
If you are a Mentor, Coach, Facilitator, Peer Support Person, Consultant, Instructor, Trainer, Counselor, Teacher, Mental or Medical Health Professional, or someone who works to improve the well-being or performance of individuals or small groups, we invite you to take the assessment for yourself so you can see first hand the benefits you can offer those with whom you work.
Try it now for free, and upon completion you will be able to view your results and compare them with the normative (baseline) group of 1500. You will see results across 12 areas of your life, related to stress, well-being and resilience.
Click here for complimentary access
One Provider's Experience - We Couldn't Have Stated it Better
"The Stress and Well-Being Assessment (SWBA) is such a valuable tool to properly start a coaching or training client relationship. It provides real time insights into where the client is experiencing stress in their lives and at what levels. It also provides insight into their emotional well being.
I use this tool with every client, one before starting coaching and another at completion of the Building Personal Resilience program or six weeks into coaching to show a before and after. Then you can continue to use quarterly or whenever one is needed.
Tracking progress with the SWBA is a great way to show your clients the progress they are making and where there is still work to be done. It has a very positive impact on my clients."
Jen, Los Angeles, California
Quickly Gain an Overview of Your Clients Results
While the assessment is not a diagnostic tool, the conversation that follows with one's clients has been described as "Fast tracking to meaningful and purposeful conversation."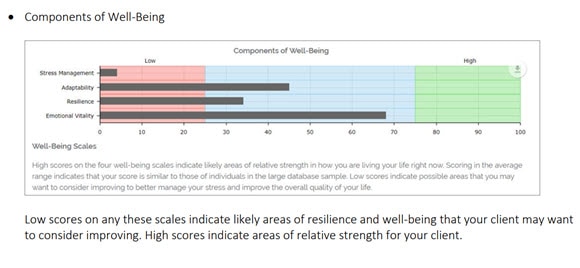 Key Benefits Providers are Experiencing
Immediately increases your client's awareness of areas that are either depleting or renewing their energy.
Increases the level of vulnerability and honesty between you and your client and expands the opportunity to establish longer-term client relationships.
Gives a flexible structure to help your client overcome areas of stress and increase well-being and resilience.
Simplifies how you evaluate and quantify your clients' progress in achieving their goals.
Helps in building a roadmap with your client for ongoing transformation.
Helps to set achievable goals and focus the use of the HeartMath Skillset or other effective approaches.
Helps clients see and feel that progress is real.
The Fine Print
The course enrollment fee includes a license to administer the assessment 50 times plus 10 assessments to use with friends and family during your learning cycle.
At any time, you can purchase an additional license to add 50 uses of the assessment to your Provider Dashboard. The cost is $245.
The license provides the right for you to charge your clients for taking the assessment.
Successful completion of the course conveys the right to advertise yourself as a HeartMath® Stress and Well-Being Assessment Provider.
Please Note: Before Beginning the Course
You must take the Stress and Well-Being Assessment for yourself. This is complimentary, and you are never charged for your personal use.
Click here to take the assessment.
About the Reviews Displayed Below
The following reviews are from individuals who went through the Program when it was still in beta mode. We have incorporated many of their suggestions in creating this comprehensive version of the Stress and Well-Being Assessment Provider Program.