Membership

Item # DV-MEMBR
Sale

Price:
Regular Price: $0.00
HeartMath Institute Annual Membership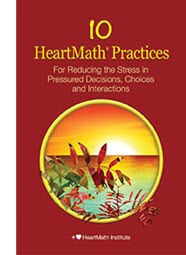 We are pleased to announce that we are offering a unique gift to everyone who becomes a member during this year's Annual Membership Drive. When you join or renew membership between Sept. 14 and Oct. 20, 2021, we will send you the beautiful and informative "little book" created especially for members:
10 HeartMath Practices for Reducing the Stress in Pressured Decisions, Choices and Interactions.
(Please allow 4 to 6 weeks for your gift to arrive.)
We genuinely invite you to become a member, and together let's discover the transformative power of the collective heart.
Becoming a member of HMI entitles you to many benefits, including these:
Member Journey: A series of 20+ insightful messages filled with tools and techniques to help you reach your next level of mental, emotional and spiritual awareness.
e Program downloads – 30+ Free e booklets, audio downloads, scientific papers and more, offering you additional tools, techniques and inspiration.
Your unique "My Member" page – filled with webinars, special offers, articles, quotes, the Personal Well-Being Survey and other valuable resources that will help you connect more deeply with your heart and the hearts of others.
Special member discounts – offered two times per year on all products in our store and timely, featured-product discounts.
A sense of knowing you are connected with like-minded people who are striving for the greater good of humanity and the planet.
Choose your own annual membership fee.
Your yearly, one-time fee can be any amount you wish, or as little as $5.00 per month to become a Sustaining Member.
Life Time Membership
If you are interested in a Life Time Membership with the HeartMath Institute, contact Katherine Floriano toll-free at (800) 711-6221 or e-mail at
katherine@heartmath.org