Membership

Item # DV-MEMBR
Sale

Price:
Regular Price: $0.00
HeartMath Institute Membership Drive: Aug. 31 – Sept. 30, 2023
 We have a unique gift for you when you join or renew your membership during our "Releasing the Wisdom of Your Heart's Intelligence" membership drive. You will receive a special invitation to a live, 3-part mini-series where innovative ideas about our future and paradigm-shifting DNA science come alive.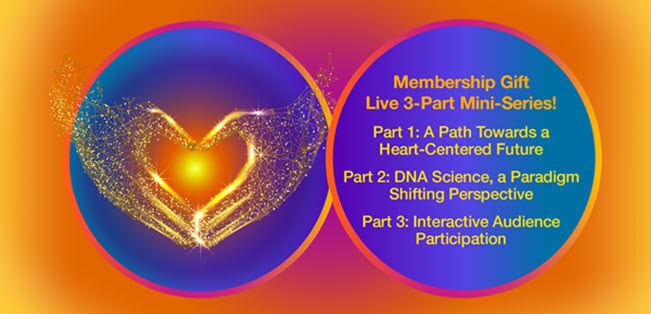 Gift Description:
In the opening 1-hour live segment, step into the insightful world of Deborah Rozman, Ph.D., as she charts a path to a heart-based future – a future where getting along with each other will be an intelligent, practical commonsense way of life. In the 2nd segment, you'll hear Rollin McCraty, Ph.D., detailing pioneering research into how positive emotions can reconfigure your DNA for enduring wellness. Then, the 3rd segment weaves their insights into a compelling dialogue and interactive audience discussion. (The 3 segments will be recorded, and you'll have unlimited access.)
We genuinely invite you to become a member, and together let's discover the transformative power of the collective heart.
Members Also Receive the Following Benefits:
Two unique e-booklets created just for members:

Items you can download for free: e-booklets, audio recordings, scientific papers, webinars, and more, offering you additional tools, techniques, and inspiration.
Messages just for members: insightful email messages to help you reach new levels of mental, emotional, and spiritual awareness.
A personalized "Member" page: more resources to help facilitate your growth.
Special discounts: offered several times per year on all products in our store.
A sense of knowing you are connected with like-minded people striving for the greater good of humanity and the planet.

You get to choose your membership fee.

Your yearly one-time fee can be any amount you wish to give. Or, for as little as $5.00 per month, you can become a Sustaining Member.

Life-Time Membership

To find out more about a Life-Time Membership with the HeartMath Institute, contact Katherine Floriano toll-free at (866) 221-6339 or e-mail her at katherine@heartmath.org .