Membership

Item # DV-MEMBR
Sale

Price:
Regular Price: $0.00
HeartMath Institute Membership
It is our heart's commitment to help you connect more deeply with your heart and unfold your highest potential. Membership includes a unique blend of tools, techniques, and inspirational literature to help you on your journey regardless of what path in life you choose.
Join or Renew and Receive a Special Gift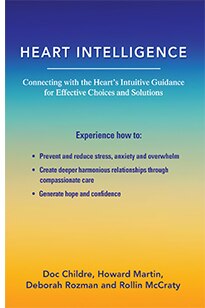 When you join or renew your membership we will send you our newest e-Book – the recently revised and updated edition of Heart Intelligence: Connecting with the Heart's Intuitive Guidance for Effective Choices and Solutions - by Doc Childre, Howard Martin, Deborah Rozman, Ph.D., and Rollin McCraty, Ph.D.
The new edition of Heart Intelligence offers inspiration and effective tools for bringing balance and cooperation between your mental and emotional nature, which replaces pressured choices with increased guidance from your heart.
In addition to this wonderful eBook, Heart Intelligence, members receive these benefits:
Two unique

e-booklets

created just for members:
Items you can download for free: e-booklets, audio recordings, scientific papers, webinars, and more, offering you additional tools, techniques, and inspiration.
Messages just for members: insightful email messages to help you reach new levels of mental, emotional, and spiritual awareness.
A personalized "Member" page: more resources to help facilitate your growth.
Special discounts: offered several times per year on all products in our store.
A sense of knowing you are connected with like-minded people striving for the greater good of humanity and the planet.
You get to choose your membership fee.
Your yearly one-time fee can be any amount you wish to give. Or, for as little as $5.00 per month, you can become a Sustaining Member.
Life-Time Membership
To find out more about a Life-Time Membership with the HeartMath Institute, contact Katherine Floriano toll-free at (866) 221-6339 or e-mail her at
katherine@heartmath.org
.