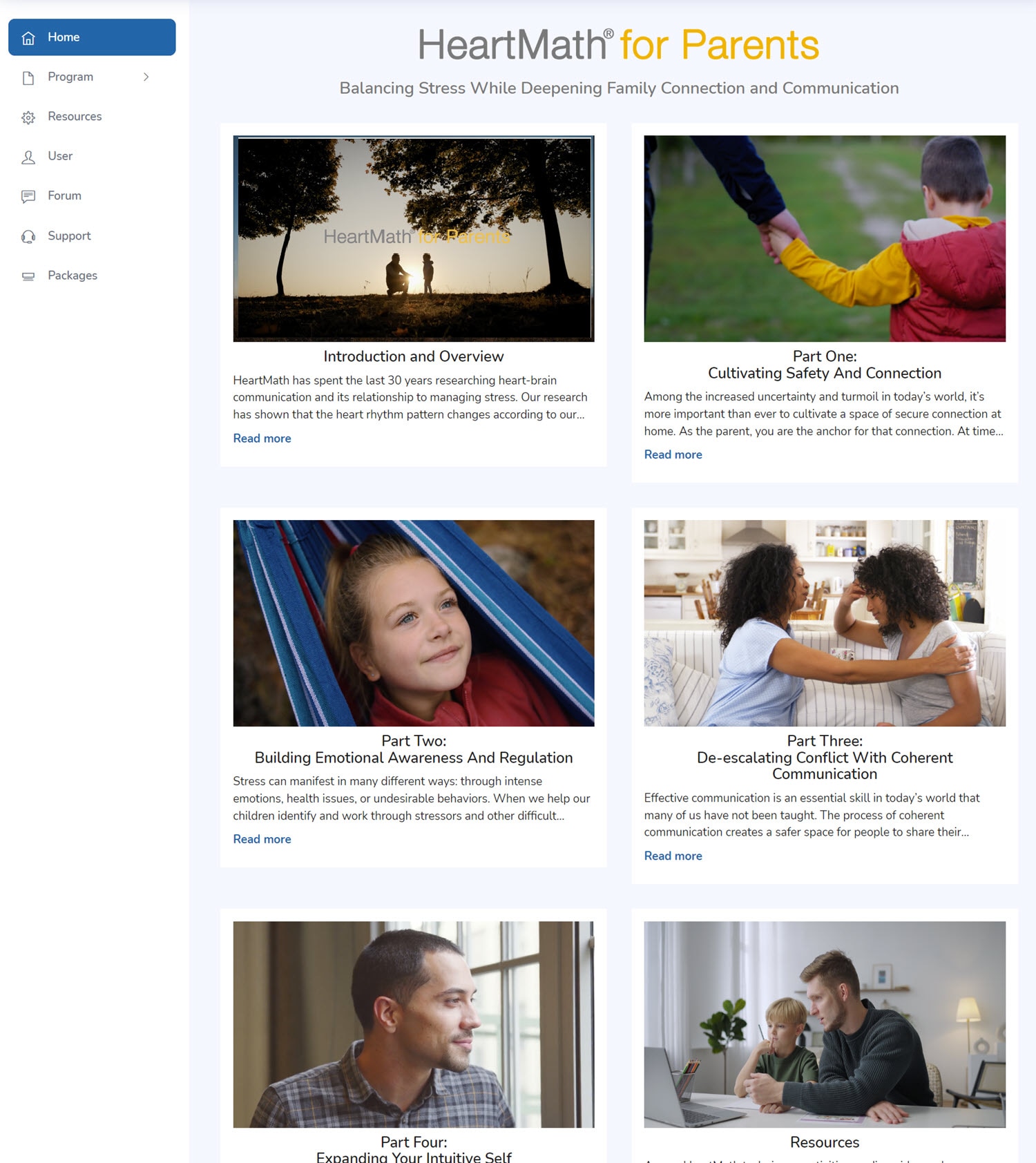 HeartMath for Parents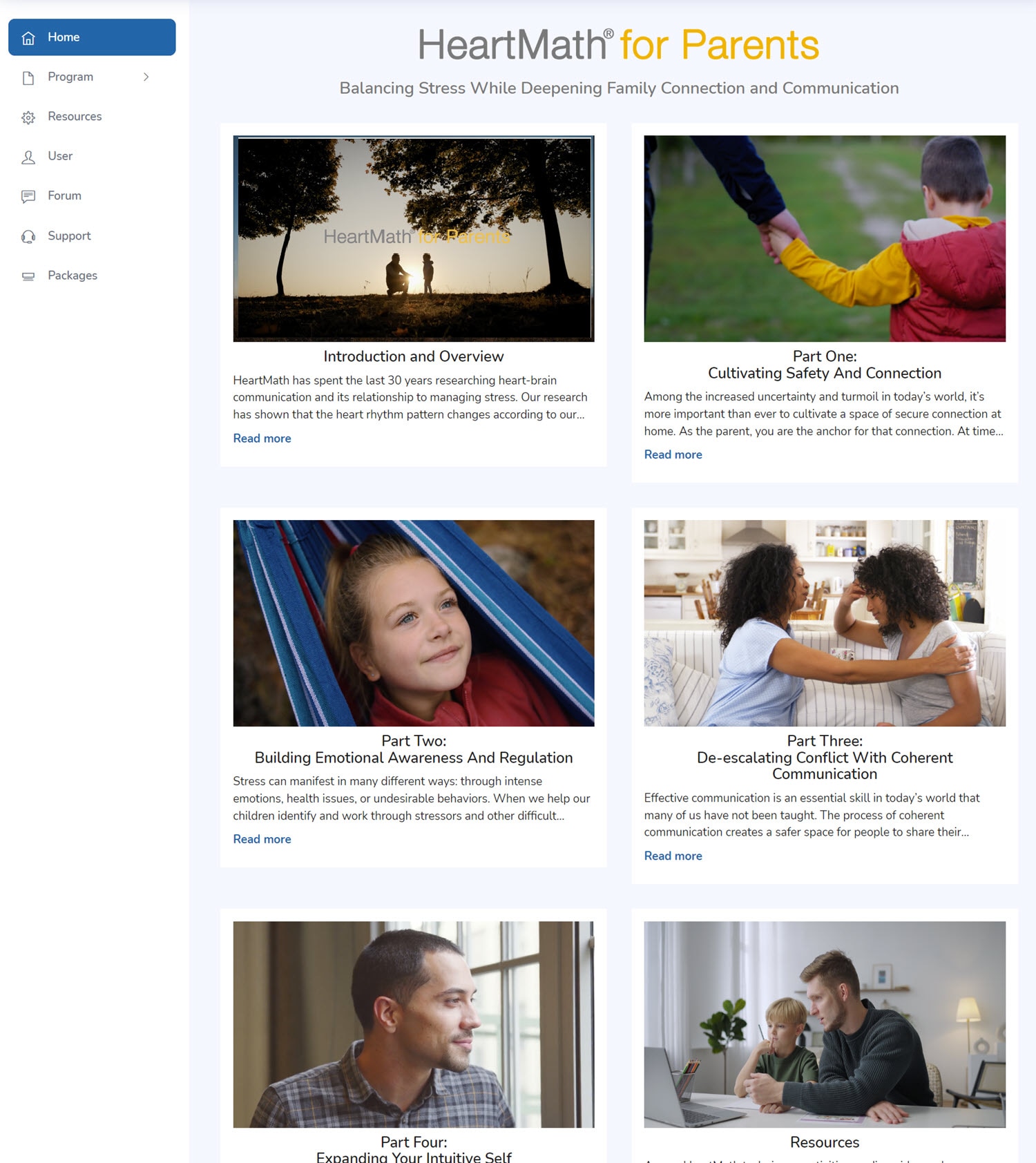 Item # ED-VARHMP
Sale

Price:
Regular Price:
Please choose the amount that fits your budget.
Experience Inner Ease and Clarity
Designed for parents, by parents. This program includes practical tools and skill-building activities for you and your family. The HeartMath toolset contains 6 heart-focused techniques you can use in the moment to manage overwhelm, gain greater emotional balance, and build your personal resilience to help you be the parent you want to be, more of the time.
Learn simple techniques to use in the moment that help you:
Manage feelings of overwhelm, anxiety or frustration, and build your personal resilience
Support your children so they can express and manage their emotions in a healthy way
Create more productive conversations with family members, with less upset
Connect to your intuitive guidance so you can make decisions with greater ease and intelligence
Ten parents share their experience of the HeartMath skillset, offering
solution-focused guidance to help you in your quest for building connection, self-regulation, resilience and communication in your family.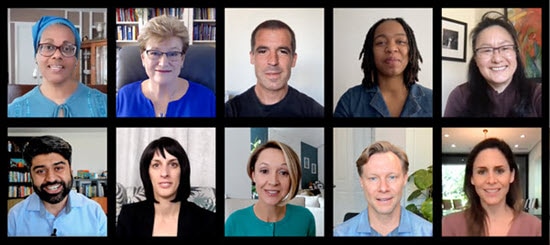 This self-paced program includes:
4-hours of on-line video content available for on-demand streaming
6 HeartMath techniques with video and audio guides of each technique
Tips and stories from 10 parents who use HeartMath everyday with their families
Skill-building activities for parents and children
Forum for parents to connect and share
The Presenters: Jorina Elbers MD, MS, Michele Coleman LMFT, PhD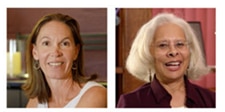 "As parents, we understand the challenges of raising today's youth and have spent many years using HeartMath methods to help our own families build the skills necessary for self-regulation, resilience, deeper communication, and more effective problem-solving."
Program Outline

Part One: Cultivating Safety and Connection
Chapter 1: Introduction and Overview
Chapter 2: From Depletion to Renewal
Chapter 3: The Heart-Focused Breathing™ Technique
Chapter 4: From Self-Judgement to Self-Compassion
Chapter 5: How do you cultivate safety and connection in your family?

Part Two: Building Emotional Awareness and Regulation
Chapter 6: Stress, Emotional Awareness and Co-regulation
Chapter 7: Managing Intense Emotions
Chapter 8: The Quick Coherence® Technique

Part Three: De-escalating Conflict with Coherent Communication
Chapter 9: Coherent Communication™
Chapter 10: Deepening Communication for Conflict Resolution
Chapter 11: Side Doors and Back Doors

Part Four: Expanding Your Intuitive Self
Chapter 12: Finding Your Authentic Parenting Style
Chapter 13: The Freeze Frame® Technique
Chapter 14: The Intuitive Self
Chapter 15: Opportunities for Personal Growth
About HeartMath, Coherence and Deeper Family Connections
HeartMath has spent the last 30 years researching heart-brain communication and its relationship to managing stress. Our research has shown that the heart rhythm pattern changes according to our emotional state, and is communicated to the brain, the body, and the people around us - influencing our health and well-being. Coherence is a physiological state characterized by a smooth rate of change in the heart rhythm pattern that occurs when we feel replenishing emotions such as care or appreciation. Depleting emotions, like frustration or worry, instate a different, more chaotic, incoherent heart rhythm pattern.

When we learn to slow down our breathing, and shift our emotional state from a depleting emotion towards a replenishing emotion, we bring our body into coherence. This coherent state reduces feelings of stress, builds resilience, and increases access to greater mental clarity and composure. The HeartMath techniques in this program will give you the skills to increase your personal coherence, as well as improve social coherence with your family and your community. This will help to reduce conflict, facilitate more effective communication, and create more connection and harmony with the people in your life.
60 Day Satisfaction Guarantee
This course includes our 60-day 100% satisfaction, money-back guarantee.